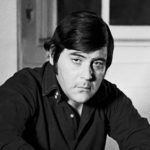 Ary dos Santos Project:
In 2020, Miguel Diniz has been granted permission by Edições Avante for the use of several poems by Portuguese poet and singer José Carlos Ary dos Santos. The project consists on the creation of four works for different vocal and instrumental combinations, in partnership with several musical ensembles.
The composer is currently developing a large work for soloist, choir and symphonic orchestra for the celebration of the 50th anniversary of the 25th of April Portuguese Revolution.
The composer is also working on a new miniature cycle for a cappella choir within the context of this project.
News will be updated as the project develops.
---
PhD Research:
Since September 2020, Miguel Diniz is developing his doctoral research project at Royal Holloway, University of London, developing a practical work on the use of movement and light as intrinsic elements in the composition for vocal ensembles. The project is supervised by Dr. Nina Whiteman from the Music Department, and Dr. Dick McCaw from the Department of Drama, Theatre and Dance. During the course of this research, several works for vocal ensembles and choirs of different sizes will be developed, performed and recorded. Live performances, streams and workshops will be announced on this website.
Since the beginning of April 2022 the composer has started a series of workshops with choirs and vocal ensembles focusing on creative awareness and the connection within the ensemble. These workshops include the construction of composer–performer devised performances and excerpts of the composer's PhD portfolio.
Diniz is currently working on a concerto for movement and choir.