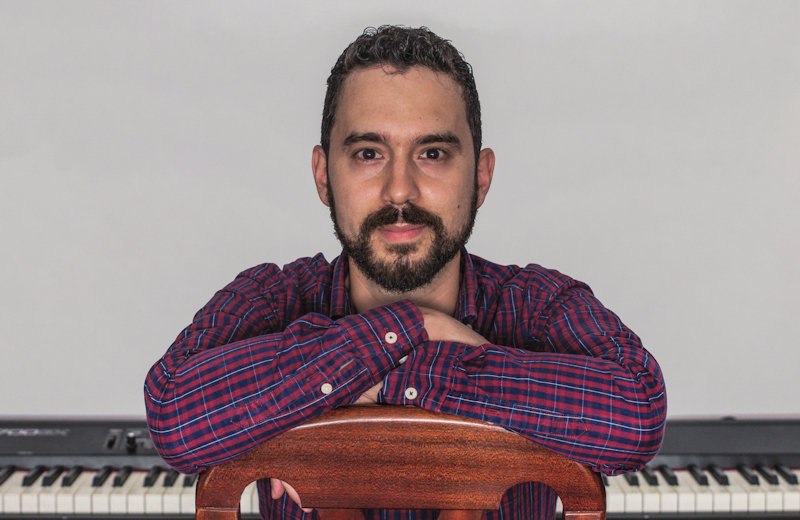 Born in Lisbon in 1985, Miguel Diniz graduated in piano and also in composition in Portugal. He finished his master's studies in composition, being awarded the Outstanding Achievement Prize by the School of Performing and Digital Arts, at Royal Holloway, University of London in the United Kingdom.
Developing an intensive activity as composer and arranger, his portfolio includes music for soloists and ensembles in different instrumental and vocal configurations. His catalogue includes varied works such as Requiescat for choir and guitar quartet, recorded in CD in 2018 by Coro Autêntico and conductor Gonçalo Lourenço, his first chamber opera Multidão: II-Vera, Mar Português for mixed choir SATB, commissioned by Coro Anonymus, A Glimpse of Stars for viola, bass clarinet and piano, recorded in 2019 at Abbey Road Studios in London, Leonardo's Legacy for orchestra, commissioned by conductor Peter Le Tissier, Sono for mixed choir SATB, commissioned by Associação Cultural Cantar Nosso for a program dedicated to Portuguese contemporary composers, Novos Horizontes for solo tenor saxophone and symphonic band, commissioned by saxophonist Nuno Martins and Banda Sinfónica da PSP, Instantes da Imaginação for saxofone quartet. The same catalogue includes compositions such as The Rarest Thing in the World, for mixed choir SATB, Faces of the Earth for vocal quartet, ad Pacem for varied choir, and Stimuli, a work of interaction for several individuals and vocal ensemble. These last Works include an approach to movement as an intrinsic part of the composition process, a theme which the composer is currently investigating in the context of his PhD project at Royal Holloway, University of London.
In 2018 he was chosen as one of the composers in residence at the art gallery in this university, a project during which he composed a work entitled Mixed Waves for voices and the gamelan ensemble Puloganti. In the next year he started working also as a media composer writing the soundtrack for Julia Negretto's short film The Starry Night, followed by music for a virtual ballet for The Isolation Project during the isolation period of the COVID-19 pandemic.
During his first job as accompanist at the festival Vocalizze in Portugal, Diniz got interested in conducting, having worked with several choirs and instrumental ensembles over the last fifteen years. Since 2009 the taught in Portugal disciplines such as piano, composition, choral conducting, choir, orchestra and contemporary music ensemble working with students of ages ranging from 5 to 64 years old. Making use of his initiative and leadership skills he created several ensembles while teaching at Conservatório de Música de Santarém, including a youth choir with which he premiered several original commissions, a chamber choir almost exclusively dedicated to 21st century music, a mixed instrumental ensemble, and a contemporary music ensemble with which he premiered several of his and other Portuguese composers' works, including his own composition students'. At this same school he developed a choir and orchestra internship for students of all ages for which he wrote ten medley arrangements with concert duration based in the music of artists such as Queen, Michael Jackson, Beatles, ABBA, Coldplay, Muse and Disney among others. During his stay in Santarém he also created independent groups such as the Ensemble Vocal Exordium and Coro Voar das Artes.
The composer is currently working on a new concerto for movement and choir in the context of his PhD project. Settled in London and with extensive experience working with musical software he works as freelance western art concert music and media music composer, while maintaining part-time jobs as conductor and artistic director of Coro Voar das Artes (Portugal), teacher and artistic director at the Acanthis masterclass (Portugal), choral conducting teacher at Ars Música (Portugal), media composition teacher at MTech (United Kingdom) and composition teaching assistant at Royal Holloway, University of London (United Kingdom).